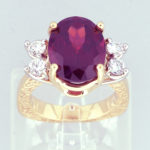 Beautiful and less expensive alternatives to white and colored diamonds: There are beautiful and less expensive alternatives to white and colored diamonds. Colored gemstones have a huge range in price and come in many sizes and shapes. A large center stone can be much more affordable in a colored gemstone than in a good quality diamond and provide a more unique ring.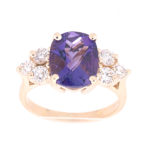 Wedding jewelry and unique settings: Many brides are choosing sapphires as an alternative to white diamonds for their center stone or accent stones. Vivid blue Sapphire is the second most common center stone for engagement rings. Sapphires are also used in wedding bands. Sapphires are corundum, the next hardest stone after diamonds.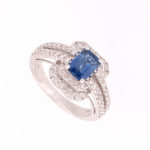 They come in many colors-light, medium and dark blue; purplish blue, purple, pink, yellow, orange, and green. Some even have a combination of colors or change colors. When they are red, they are called rubies. Because of their durability, they are particularly suitable for wedding jewelry. Other colored gemstones can also be used for wedding jewelry successfully, if hard enough.
Creating wedding jewelry with colored gemstones is one way to have more uniquely personal jewelry.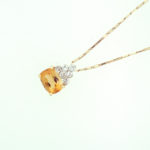 Types of jewelry that work with colored gemstones besides wedding: In addition to engagement rings and wedding bands, customers are choosing colored gemstones for earrings, pendants, necklaces, and bracelets, with or without diamonds.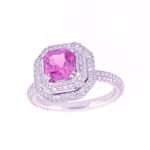 Matching sets of rings, earrings, and pendants: Because they are more affordable, customers often choose to have matching sets of rings and earring or rings and pendants or necklaces and even include bracelets. Sets can be made at the same time or in subsequent years as gifts. Diamond Showcase has created beautiful matching pieces in Arizona Peridot, Four Peaks Amethyst, Opals, yellow Citrine, blue Topaz, and blue Sapphire among other stones for customers.
---
Birth Stones:
January: Garnet—commonly red to deep red, pinkish red, but also green, orange and yellow
February: Amethyst—purple
March: Aquamarine—light to deep turquoise. Bloodstone—dark green with flecks of red
April: Diamond—commonly white, but also yellow, orange, pink, brown, gray, and black. Very rare and most expensive natural colors are blue, purple, red, and green.
May: Emerald—vivid deep green
June: Pearl—white, cream, gold, and gray, plus colors. Alexandrite—color changing from bluish green to reddish purple depending on the type of light. Moonstone—milky glow with blue highlights and can also be brown, green or orange.
July: Ruby—bright to darkish red
August: Peridot—lime green. Spinel—vivid red, cobalt blue, bright pink, and orange as well as paler colors. Sardonyx—opaque reddish zebra striped with white bands.
September: Sapphire—typically blue, but also yellow and pink and most other colors except red.
October: Tourmaline--red, blue, green, greenish blue and other colors. Opal—whitish with pastel highlights to deep blue with many color highlights and also fire Opal with orange and black lights.
November: Topaz—yellow to orange with pink overtones. When heated, Topaz turns beautiful shades of medium to dark turquoise. Citrine—pale yellow to brownish orange.
December: Tanzanite—blue to bluish violet with some color change. Zircon—brownish red or colorless, yellow or vivid turquoise when heated. Turquoise—opaque green to aqua to deep turquoise, sometimes with black matrix.
---
Mother's Day Rings: A ring with the birthstone of each child is a valued Mother's Day gift. Diamond Showcase can order rings with three to five or six stones or can create an original design for a mother with each of her children's birthstones. Other family members' stones can also be included.
---
Choose a color you love—let us help you find a stone (s) that fit your taste and budget
Blue Stones and alternatives to sapphires: Fine quality Medium Blue Sapphires have been increasing significantly in value in recent years. There are popular alternatives to the highly desirable blue sapphires such as Tanzanites, Iolite, Kynaite, and Spinel. Lapis Lazuli, Sodalite, and blue Chalcedony are blue opaque options, cut flat or as a half dome cabochon. Affordable transparent turquoise blue options include Aquamarine, Zircon, and Blue Topaz.
Green stones and alternative to emeralds:    Choose a beautiful Emerald or as a green alternative, choose a Peridot, Tourmaline, Tsavorite Garnet, or Jade.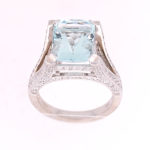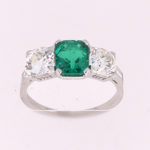 Local stones:
Arizona Four Peaks Amethysts and Peridot— Most Peridot comes from Arizona. Four Peaks Amethyst is mined locally just northeast of Phoenix. This mine is the most important source of gem-quality Amethyst in the United States. Diamond Showcase has access to a large supply in many sizes and shapes.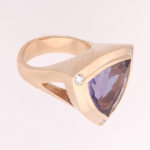 Our services: Let us help you choose the perfect colored gem stone that works for your taste, type of jewelry, and budget. We have multiple sources for fine color gemstones and can even have a stone cut to your specifications.