Custom Design Service
Have you dreamed about the "one of a kind" ring or an amazing pair of earnings worn by a model or celebrity or just wanted to design your own jewelry? Diamond Showcase is here to make your jewelry dreams come true, whether for your wedding, anniversary, birthday, celebration, or a special gift for someone else or to yourself. Would you like to include a family heirloom diamond or gemstone in the piece? Meet with our designer who will work with you to translate your dream into CAD (computer aided design) pictures from four angles or a hand carved wax. Then tell us if this fits your dream or how we can modify it. CAD lets us design a piece for any size or shape diamond or gemstone and be sure it fits the design and looks beautiful. The CAD is used to create the model for casting. The finished jewelry has the prongs in place over the stones and the metal look minimized.
Our jewelers have been doing this for decades, and we manufacture our jewelry locally. Many of the rings, pendants and other pieces of Jewelry shown on our website are our custom creations. Check them out.
If you are needing insurance replacement assistance, we are happy to recreate what was lost, damaged or stolen.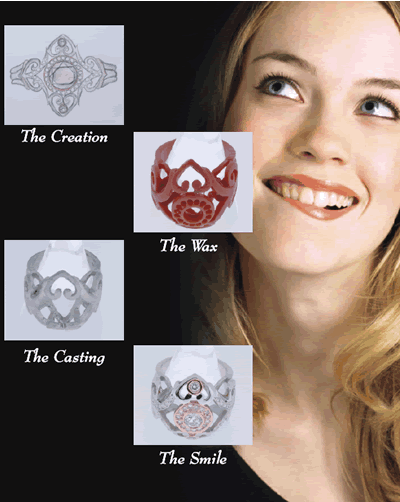 Our Process
Design–Meet with our designer to develop the concept. Bring your pictures, ideas, and stones to use or let us help you select a diamond or gemstone.
Review and approve your design–Review photos of the CAD design or the wax or even the actual wax and make changes or approve the design as proposed. The design fits the size and shape of your gemstones and your finger or other size requirements. At this point the final cost is determined.
Casting, stone setting and finishing-After your design approval, we select any small diamonds or gemstones needed, per your direction, and begin the casting, stone setting and polishing process which takes two to four weeks
Presentation and the smile-Your 100% satisfaction is our requirement. Bring your jewelry back each year for cleaning, polishing and plating as needed. We warranty our work against any construction defects.
Clients are seen by appointment to insure the best possible experience. Please contact us to schedule. Call (602)955-1535
Many of our customers come back for multiple pieces and refer their friends and family members. See what others have said